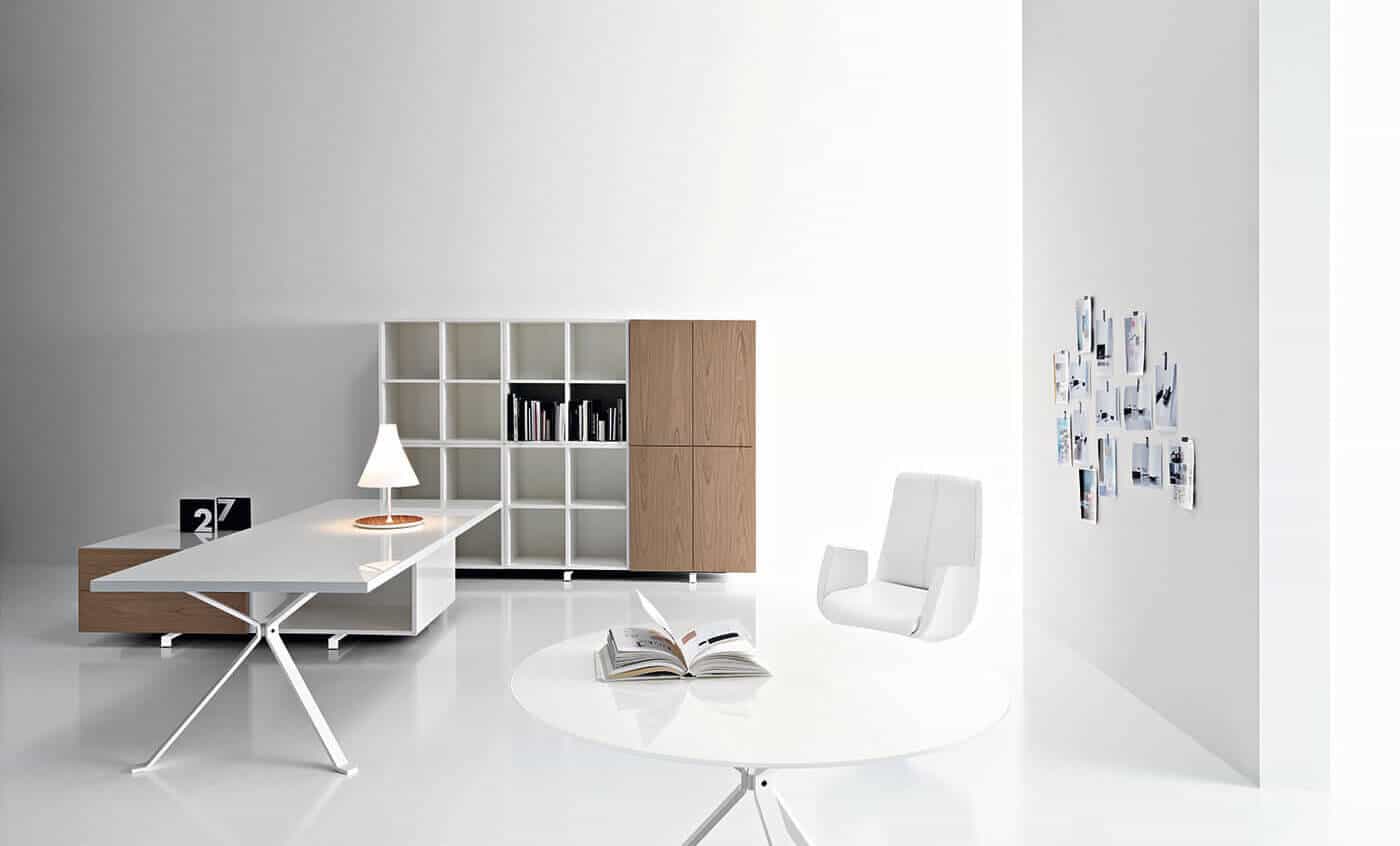 Revo is a collection having a great formal impact, in which the richness of the tops, the importance of cupboards and the great value of finishings, highlight the "executive" nature of the product, that shows the attention to the aesthetical and technical quality about the manufacturing details and the extreme refinement in choosing materials, finishings and matching the components. Metal parts, made of thick steel, evoke classical elements carried out by handcraft wrought iron, catching the hand-made attention of details with a modern design and image. The shape of legs and beams simulates the reticular frame typical of modern architecture and synthesizes the lightness of
up-to-date design.
White and black, together with the brilliant lacquering and the use of glass, are matching with the leather pad and the warm finishing of wood veneer surfaces, available in pink ebony and oak. To complete the finishings, the steel frame could be either chromed, to underline the technical view of the product, or white polished enameling to create up-to-date "total white" chromatic solutions.
The Revo collection consists of desks, work extensions, underneath extensions for work tops, containers, and tables for meetings, all of which have been studied to create efficient, functional and comfortable work spaces.
Work tops come in a single size (240×100 cm), are very thick (4 cm), and are richly bordered with steel profiles. The choice of finishings ranges from precious types of wood to enamelled glass, laminated ceramic or resin, available upon request.
Work stations can be completed with free-standing containers and underneath extensions for work tops, furnished with open compartments, doors, drawers, and compartments with drop-leaf openings. All containers are made of very thick (25 mm) wood panels that have 45° joints, in the polished-lacquer and wood-type finishings. The closing elements are available with polished-lacquer, wood-type or reconditioned-leather finishings.
The series is completed by a free-standing circular (120 cm in diameter) table, made of retro-enamelled crystal, that functions as a support to operative or relational activities, and a family of square (163×160 cm) tables for meetings that can be aggregated in a series so that they form surfaces with large dimensions.
The result is a group of products in which all aspects and elements have been devised so as to exalt their qualities of uniqueness and refinement, which are capable of transmitting an image of a strong personality that is both light and airy.
Awards

Good Design Award 2009 Winner Product
Other projects in: Product design