Purple Jade Riverside Resort
Client Beijing Purple Jade Villas Real Estate Development co.ltd.
Location Jilin, Cina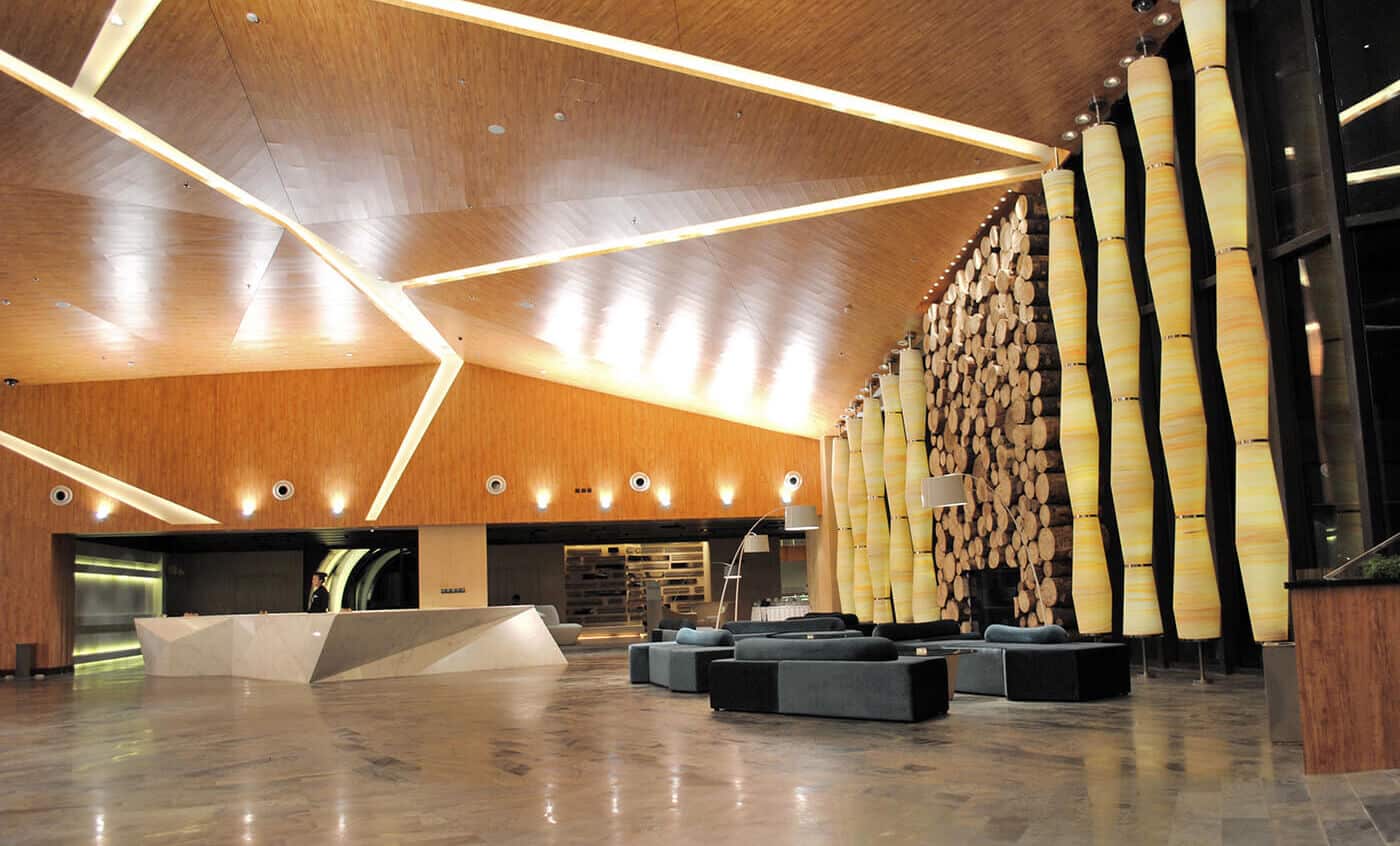 The project, ranked in first place for the Public building Award, the Beijing Beautify Exhibition Architectural Decoration Biennale 2011, is an authentic interpretation of the customer's needs who wanted to create a high quality space, equipped with all kind of comfort. From the beginning, the building took inspiration from Nature generating an environment symbol of balance and harmony between man and Nature. For this reason the Purple Jade Hotel raises in Changbaishan, a mountain located between China and North Korea. During the last years this particular geographical area, surrounded by unspoilt nature and not easily accessible, is being transformed into a very popular touristic location.
The building, a five-stars hotel, is characterized by highest quality finishes: the interior design combines two elements that have always governed human life: ice and fire. In line with this perspective, volcanic rock and raw wood are harmoniously combined in order to create a spontaneous connection between the interior and the surrounding natural landscape. A comfortable lobby hosted the guests in a warm tones and comfortable atmosphere thanks to the wood finishes and light effects that underline the geometrical ceiling: a sort of blades of light that emphasize space and decorate environments. The wine bar offers a traditional Chinese style, reinterpreted by dark colours that creating a peaceful and soothing atmosphere. Elegance, luxury and a beautiful view of Changbaishan mountain characterize the restoration area; the large glass surfaces create the illusion of a complete fusion between inside and the natural environment outside. In addition to the high-living rooms, in the Purple Jade Hotel there are all the comforts including a spa area, gym, swimming pool and a functional meeting rooms. Man and nature, elegance and comfort are brought together in a perfect combination of elements in accordance with the exclusive architectural design, where visitors can enjoy a unique experience.
Awards

2011 - Beijing Beautify Decoration Exhibition/ Beijing Architectural Decoration Biennale 1°Prize Public building