New arena
Client Wearena
Location Reggio Emilia, RE, Italia
Built area 44.000mq
Date 2017
Partnership Sportium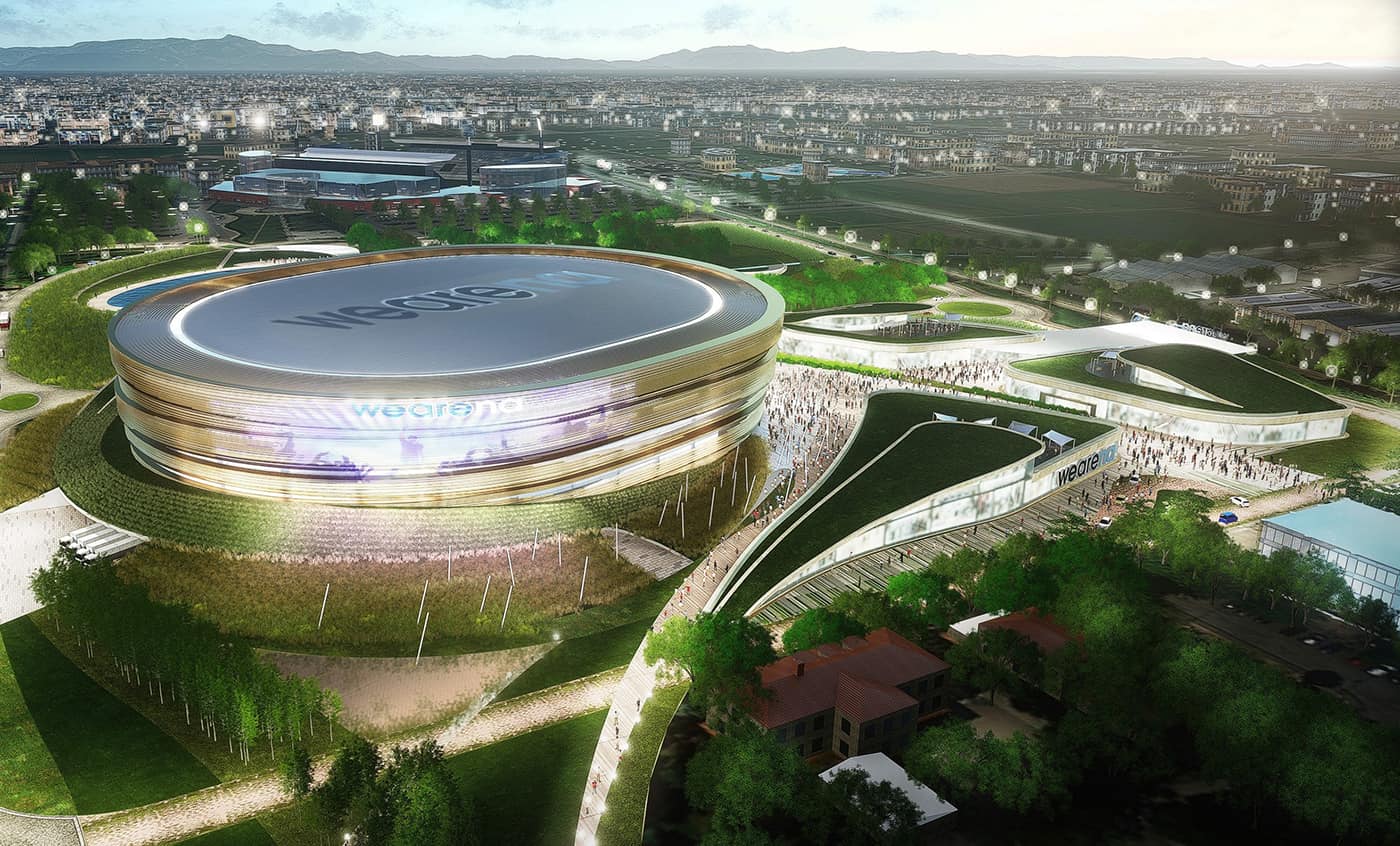 Wearena is the project for a new multifunctional arena integrated in the Reggio Emilia landscape.  An urban, architectural and landscape project, in which the sustainable approach and the design of an urban space on a human scale are supported by an intervention that includes:
Urban rehabilitation – The linear/organic park + the arena as a link between the urban/industrial and the rural Po Valley. The project aims to give identity to the area through the modeling of green architectural spaces that become urban spaces or architectures proposing a morphological and landscape rehabilitation
Sustainable regeneration: through the design of a park for the city that welcomes the arena and a mix of use surrounded by greenery. The variety of functions makes the space usable by different types of users throughout the day.
Landmark + piazza: the arena as a generator principle of the area and the activator of a synergistically sustainable mixed use and landscape use. The arena is a landmark and urban piazza, able to generate new flows and urban functions. The Arena will be able to accommodate approximately 10,700 viewers in the Basket configuration, about 12,150 spectators for the concert and stage configuration and about 8,400 for the show and mid stage configuration. 6/8 Hospitality boxes and about 1500/2.000 square meters of F&B/Leisure are planned
The green architectural: The project is born of a spontaneous gesture, a green ribbon that unfolds in the territory "wraps" the functions and draws the "architectural" green in a new piece of the city. Thus, it leaves behind a trail that sometimes becomes a green path, sometimes an architectural volume, and once again the theme of mixité becomes alive within this place. This vortex finds its maximum freedom in designing the Arena, developing in height and going to materialize in a coating system that derives itself from the landscape matrix.
Slow mobility: The vehicular traffic is distributed outside the area, in favor of pedestrian traffic inside the square and the linear/organic park and cycle traffic. Therefore, the main accesses to the area are pedestrian, with the exception of access from the service road to an area also dedicated to the parking of emergency vehicles. The main pedestrian accesses take place from the new train  station, and from the parking to the north, through a "green" equipped path.
Wearena is a "Landscape Urbanism" project in which architecture and nature are integrated to generate a sustainable urban space.