National Stadium of Tirana
Client Serenissima Costruzioni
Location Tirana, Albania
Seats 22000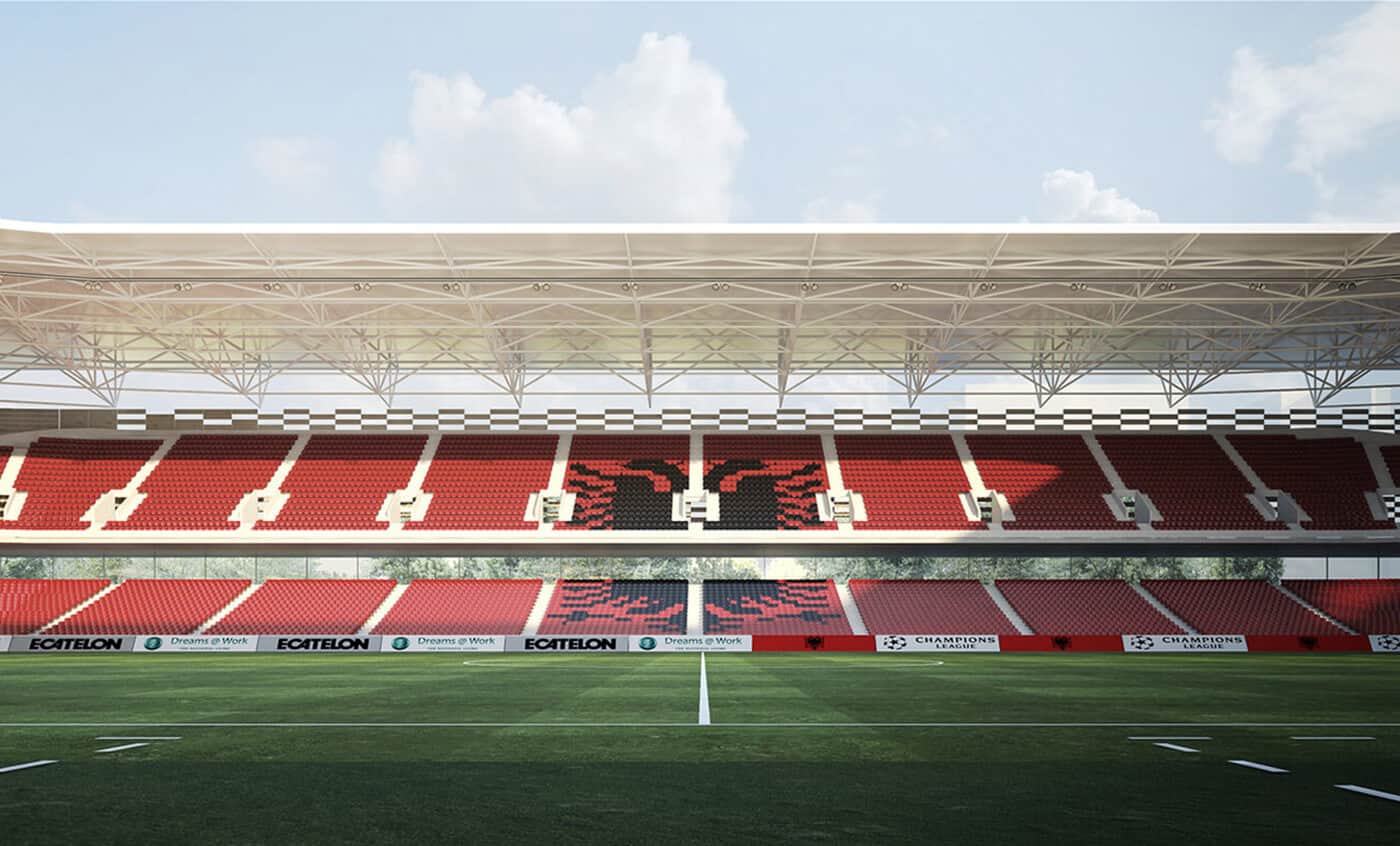 Situated south of Tirana, the multifuncional, sustainable and innovative stadium locates in an historical area of the city, few kilometres from the town center, in one of the most interesting areas of the Albanian capital.
A sportive structure, but there is more. The new complex, indeed, with a built area of 43.000 sqm (25.000 sqm for stadium activities, 10.000 sqm for offices and 8.000 sqm for retail activities), is an integrated structure: a UEFA category 4 stadium but also an urban instrument capable of connecting the social tissue.
Developed on four main levels, the new stadium reflects the history of the city through an innovative and contemporary interpretation that links citizens' needs and the historical value of the building, giving origin to new urban and social synergies.
Services and functions of the new National Stadium, as a matter of fact, host commercial galleries and other services, open also when there are no sports events scheduled, in order to give hospitality and comfort to every kind of user.
The building preserves the elliptical shape of the old one and presents three simple volumes at different heights around the soccer field, the real core of the structure: the podium level (that hosts the retail area), the bleachers (with the offices) and the covering. A 73 mt-high tower will provide a panoramic view of the town and of the stadium; it will host restaurants and lounge areas.
An optimized and innovative space, following the criteria of sustainable architecture, an energy saving structure looking to the future.
The whole façade will be realized in Nesli, one of the noblest local materials, resistant to low temperature and compression. This material is also used as a shield for the interiors of the upper tier of the façade.
A solar system with photovoltaic modules, directable according to shadow, will be installed on the stadium covering. Thanks to this technology, high performances are guaranteed, also with diffuse light o high temperature; the advantage is a higher energy production during summer.
In addition, an integrated system of lighting control will manage lighting, according to the usage of the offices and the levels of natural light.