News
Fuorisalone 2018: all the events where you could find Progetto CMR
Date 16 April 2018
Categories News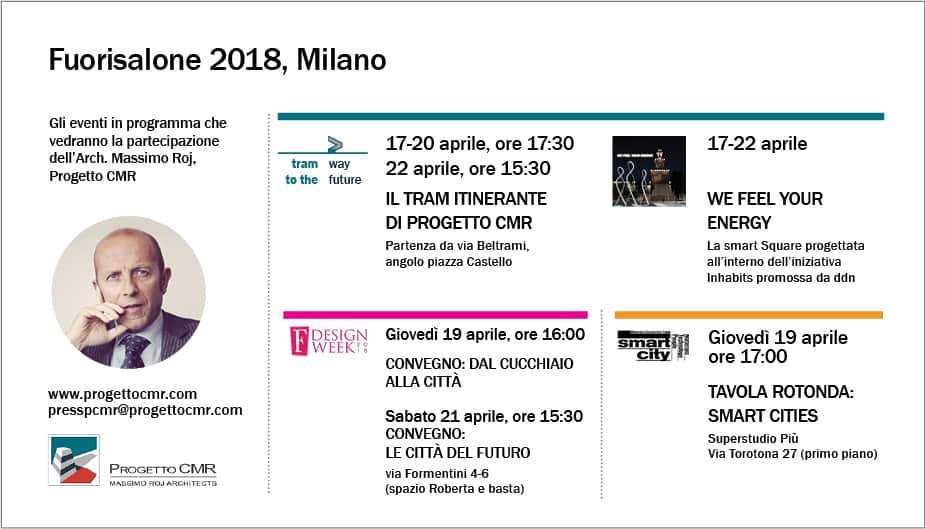 Fuorisalone 2018 edition will be full of events and initiatives for Progetto CMR.
Tramway To The Future is the tram that will start every day from the smart square We feel your Energy: these are the two great initiatives designed by Progetto CMR.
From Tuesday April 17th to Sunday April 22nd ,many special guests are invited on board to talk about architecture, art and scienze in a peculiar sustainable way. While the smart square – part of the initiative Inhabits sponsored by DDN – will host technologies and interective elements that people could be directly try.
Tramway To The Future is sponsored by Telmotor, UnipolSai and Viessman. Besides, Dott. Gallina, Liuni, Oikos and Schüco. Supported by Comune di Milano, Milano Design Week, Assolombarda, Assoimmobiliare, Castello di Rivoli and Green Building Council. Thanks to Artemide, Campari, HWStyle and Museo Nazionale della Scienza e della Tecnologia Leonardo da Vinci.
We feel your energy is sponsored by Beni Stabili, Cosentino, Lab23, Linea Light e Lumentile.
During the Fuorisalone Design Week in Milan,  Massimo Roj is also invited as main speaker for two initiatives organized by  Fashion Design Week and he will participate to the round table at SuperstudioPiù on occasion of the special exhibition Smart City sponsored by Material Connexion.
In particular, on the conference 'Dal Cucchiaio alla Città' organized by Fashion Design Week (Thursday April 19th at 4pm) Massimo Roj will have a talk on urban regeneration with Daniele Lago, Art Director of Lago design.
Always for Fashion Design Week he will talk about the future of our cities during the event 'Le città del futuro' (Saturday April 21th at 3:30pm).
Le iniziative di Fashion Design Week si terranno in via Fomentini 4-6 (spazio Roberta e basta).
On occasion of the exhibition 'Smart City: materials, technology and people' he will also talk about smart cities and will show some very particular projects like The Sign, Xiantao Big Data Valley and Oxygen Eco Tower. The initiative is housed at SuperstudioPiù in via Tortona 27 (first floor).