News
Construction works of the new UnipolSai Assicurazioni HQ in Milan have started
Date 31 January 2018
Categories News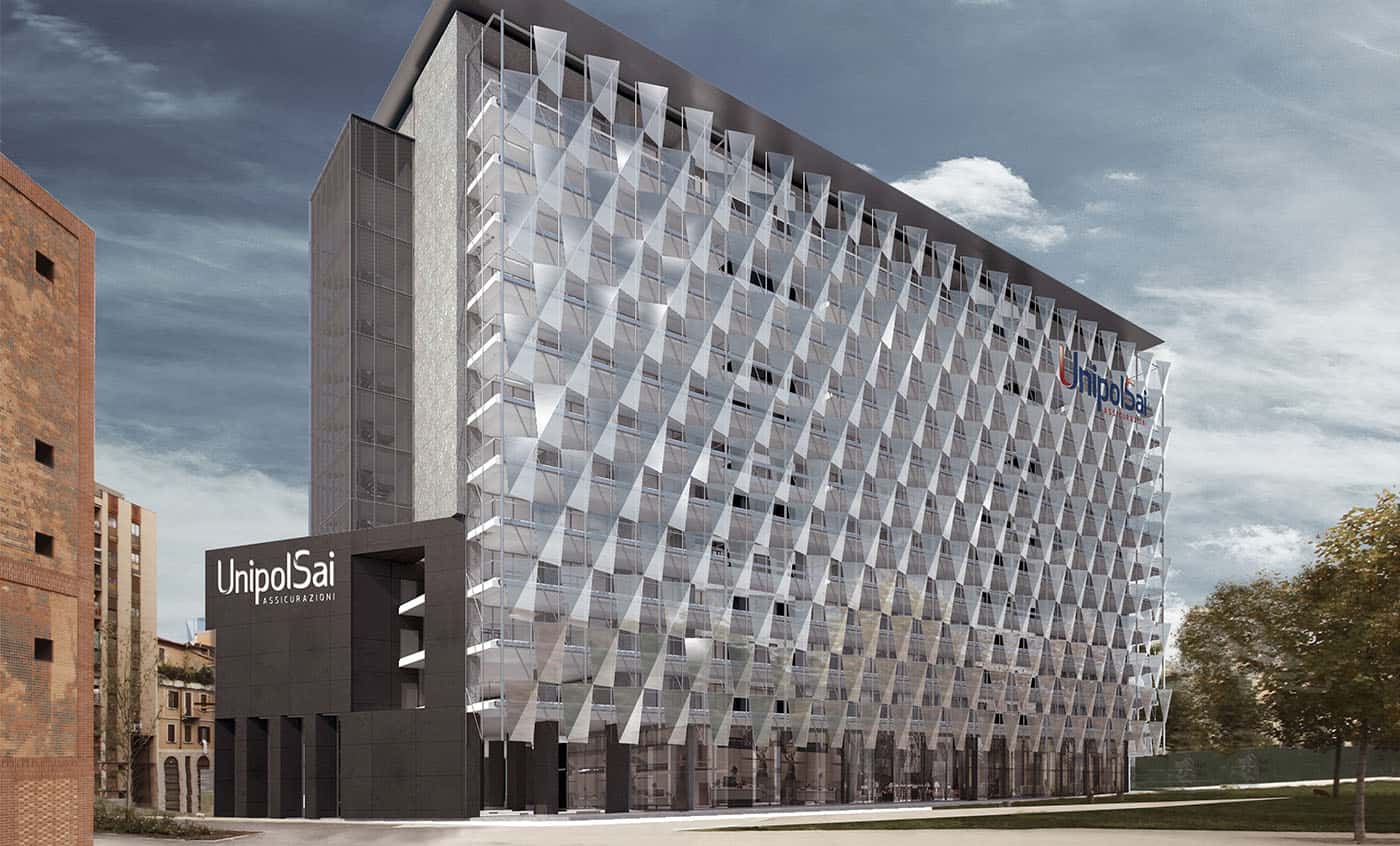 The project gives life back to a building left unfinished for many years, returning Milan an innovative and cutting-edge place in line with the contemporaneity of the surrounding Isola district.
The construction works of the new operative HQ of the Italian insurance group UnipolSaiAssicurazioni – De Castillia 23 – have started in Milan. The architectural solution suggested by the Milan integrated design firm, a wide-spectrum restoration work, aims not only at changing completely the building's aesthetical features, but also and foremost at improving its functionality, its energy performance and overall management efficiency.

The future UnipolSai complex will be made of two buildings (respectively 53m and 15m high). One of the key choices made by the Client and that characterizes the project is the new function of the low-rise building, formerly a parking lot and converted into offices. As a result, the total office area is increased and large parts of the ground floor can be left open to the public.

Another peculiar element of the De Castillia 23 building is the new façade, sewed on the complex as a precious glass dress that reflects sunlight in a constantly different way, giving a vibrant feeling of unexpectedness to the building. A prismatic façade, both dynamic and elegant, in dialogue with the surrounding buildings and well inserted in the architectural language of the district.

A turning-key element of the project, entirely designed using BIM, lies in its technical and engineering innovation, which turns the building into a vivid example of green architecture. Part of the external surfaces is covered with titanium dioxide, a specific material that can "melt" the polluting agents in the air through an advanced photocatalytic process. According to research by the University of Milan, this material will contribute to cut the local emissions by 36kg of nitrogen oxide every year, as equal as the estimated action of 122,000 sqm of green areas.

The building features cutting edge systems that use renewable sources for energy production. The photovoltaic panels placed on the roof are able to produce around 40,000 kWhel/year, cutting the emissions by 13t/CO2 per year. In addition, a highly efficient heat pump uses geothermal energy for both heating and cooling, without releasing pollutants into the air.

The project also includes 2,000 sqm of green area, further making the local environment more enjoyable and healthy. According to the study by the R&D team of Progetto CMR, this area will indeed absorb around 12t of CO2 and release 9t of oxygen every year.

Regarding offices and interiors, specific analyses have been carried out to improve the amount of natural lighting, solving some critical issues linked to the existing structure of the building, as the depth of the balconies. Comparing with a standard office, the final result is an expected increase of diffused lighting by 30% and of general light (direct+diffused) by 36%, with a consistent reduction in the use of artificial lighting and energy consumption costs.